What's New
Rates

RATES AND LIMITS FOR 2017 PAYROLL
Employee FICA ~ 6.2%
Employer FICA ~ 6.2%
Social Security Wage Base ~ $127,200
EE FICA Tax paid in ~ $7,886.40
ER Max FICA Tax paid in ~ $7,886.40
Standard Business Mileage ~ $.53.5
PA State Tax Rate 3.07%
Minimum Wage ~ $7.25 (Federal)
Minimum Wage ~ $8.25 (DE)
Minimum Wage ~ $8.38 (NJ)

RETIREMENT
401K/403B Contribution ~ $18,000
Catch-up ~ $6,000
Simple IRA~$12,500
Catch Up~$3,000
IRA & Roth IRA~$5,500
Catch Up~$1,000

HEALTH BENEFITS
H.S.A. Contributions
Employee Only ~$3,400
Family Coverage~$6,750

Legislation

Employer-Provided Health Coverage Value— Not Taxable
Payroll / Human Capital Management Demo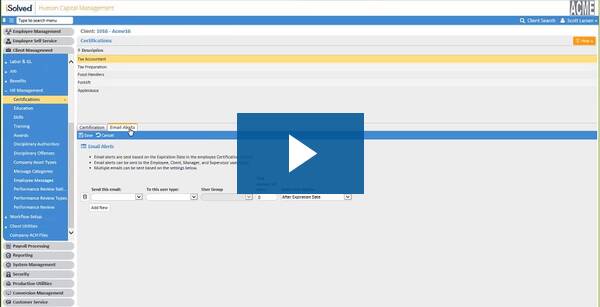 As you know, many townships have two different taxes: Earned Income Tax [EIT - 1% or more per pay] and Local Services Tax [LST - $52 per year]. Until 2011, there were multiple tax collectors (Berkheimer, Keystone, Central Tax, etc] in each county.
With PA Act 32 amending the Local Tax Enabling Act, all PA counties (except Phila) were required to hire ONE tax collector for the entire county and begin withholding EIT at the higher rate of where the employee lives vs. where the employer is located by January, 2012.
WHAT DO YOU NEED TO DO? (Click on the links below for forms / information / links)
Have every Employee complete the Certificate of Residency. The employee's resident township name is mandatory. Make this part of your New Hire kit.
Click here for Township Lookup
Click here for the required PSD CODES required on the form.
Employers should maintain copies of these forms to provide to the taxing authority upon request. Premier does NOT need copies ~ only the name of the township for each employee. Notify Premier of the employee's township.
Employees will now pay the higher EIT rate of the resident rate of the Employee's residence vs. the non-resident rate of the Employer's location. Let your employee know if their EIT rate will increase.
Keystone Employer Help Line: 1-888-328-0558; Berkheimer:  610-599-3139.
More information on Act 32 can be found at the following websites: KEYSTONE BERKHEIMER
Employer-Provided Health Coverage — Value Reporting Requirement - Not Taxable
Starting in tax year 2011, the Affordable Care Act required employers to report the value of the health insurance coverage they provide employees on each employee's annual Form W-2. However, to provide employers the time they need to make changes to their payroll systems or procedures in preparation for compliance with this requirement, the IRS made that reporting by employers optional in 2011, but mandatory in 2012 for employers with more than 250 W-2's.
This reporting is for informational purposes only, to show employees the value of their health care benefits so they can be more informed consumers. The amount reported does not affect tax liability, as the value of the employer contribution to health coverage continues to be excludible from an employee's income, and it is not taxable